Welcome to Lake Erie Walleye and Smallmouth Bass Fishing Charter Boats, Port Clinton, Ohio. Drift fishing or troll on Lake Erie aboard Coe Vanna fishing charter boats for Walleye, Perch or Smallmouth Bass
Walleye - April through Oct, Perch - May through Oct.
Smallmouth Bass fishing charters - May through October.
Coe Vanna's charter fishing boats carry two - three to six or seven to twelve passengers per boat.
Lake Erie walleye charter fishing trips on the U.S. & Canadian waters. Departing from Port Clinton, Ohio.
2 - 3 MAN WEEKDAY Big BOAT SPECIALS 30 FT ISLAND HOPPERS $520.00 - $540.00
4 to 6 Man Fishing Trips - Short Notice Specials Save 10 % off Charters and Lodging
Overnight accomodations Fisherman's Lodging & Country Lodge
Fishermans Lodging - Full Size Furnished Mobile Homes located right at Wild Wings Marina or Upscale to our First Class Country Lodge - 3 miles from the marina.
Walleye fishing on Lake Erie has been creating lifetime memories for fishermen for over 35 years. Our Lake Erie walleye charter boats fish out of Port Clinton, OH. Wild Wings marina is a direct access marinas, meaning you will spend much less time running to the prime fishing areas and more time on the fish.
Coe Vanna docks at two marinas in the Port Clinton area.
We put you on the best fishing areas everytime you fish with us!
35 YEARS Experience - The Fisherman's Edge !
Our Fishing Advantage.
Charter your Lake Erie fishing trips with us - when you limit out early on any of our charters -
you can spend the rest of your time fishing for another species at no extra cost.

Combo Trips -Walleye - Perch and Bass
Smallmouth Bass - Walleye and Perch are plentiful on Lake Erie's reefs. Reefs attract and hold lots of and big fish- which is why the western basin reef complex right by our marina makes for amazing combo fishing trips.
Current Lake Erie Fishing Reports click here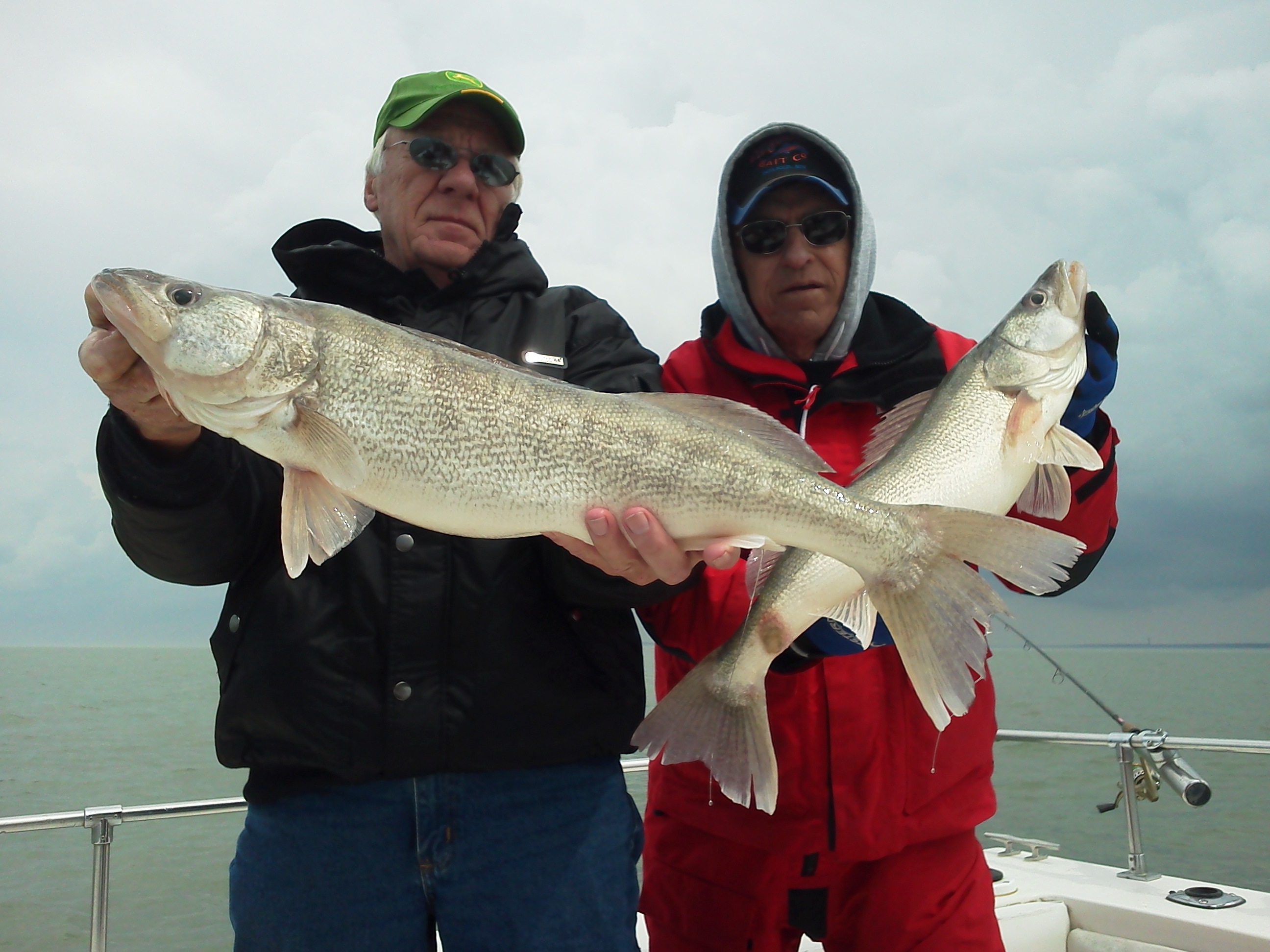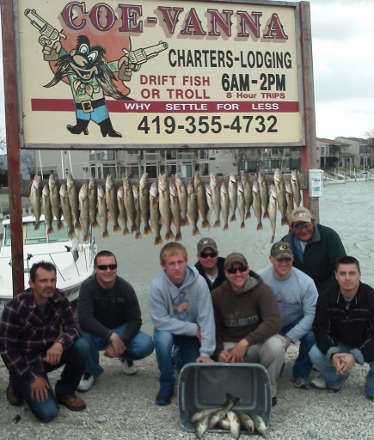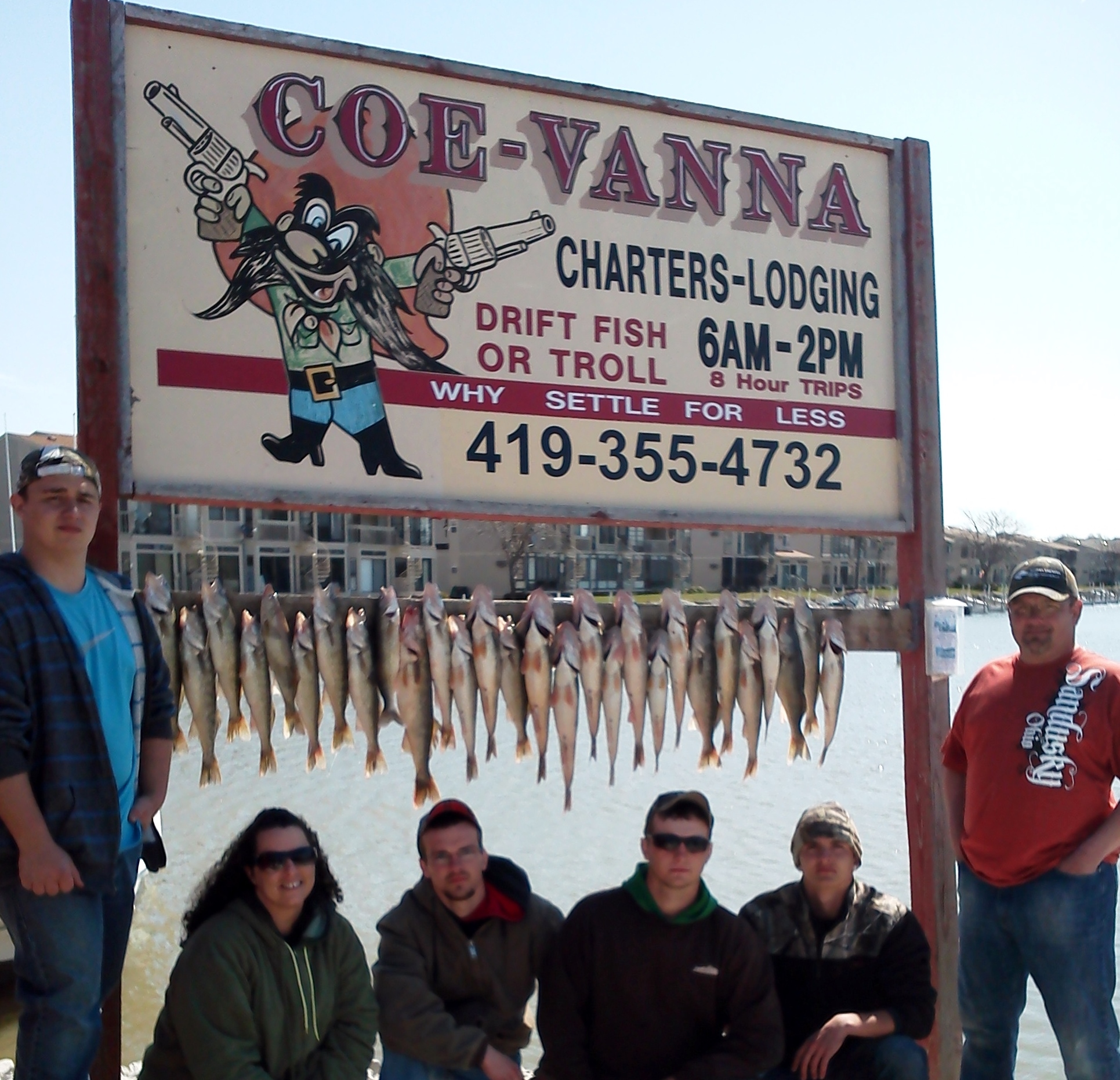 Big Heads 2014 8 man walleye limit jig fishing 2014 Walleye Limits
Lake Erie Fishing Charters

Port Clinton Charter Boats & Lodging


Please Take a Tour of our website

Call or text Captain Dave at 419-355-4732

With questions or to make reservations
E-Mail
E-Mails answered promptly





7 to 12 person walleye charter fishing boat






Island Hopper Lake Erie fishing charters 7 to10 passengers !

Key Largo 1 to 3 passengers $490.00 - $520.00 - 600 lb combined passenger weight limit Rods reels bait and tackle furnished.

For your convenience we except credit cards deposits over the phone to hold your Lake Erie Fishing charter or lodging.

Trophy Walleye Fishing Charters Specializing in drift fishing Rod in Hand Fishing Action !




Coe Vanna III fishes up to 6 people. $590.00 Rods reels bait and tackle furnished

              <link href="https://plus.google.com/+Lake-erie-fishing" rel="publisher" />
April Jig Fishing on Ohio Reefs Turns Big Numbers and Trophy Walleye!

Take home two limits of Walleye with our April limit out Special!
Call for details

Our five completely outfitted fishing boats are the best anywhere. Lake-Erie-Fishing boats charter small groups 2 to 3 people on the Key Largo, 6 man charters on our two thirty foot sport crafts and larger crews on Coe Vanna IV and Cindy II pictured above will handle 7 to 12 fishermen with ease! They are United States Coast Guard Inspected Vesseles with a 12 FT. beam- fast- with lots of room.

We take great pride in our equipment or reputation and our business.
We are booking five boats to better serve you, so it is likely we have the open dates you need.

Our Captains, Guides and Charter boats are among the best in the industry.

Trophy Lake Erie Walleye

Charter a fishing trip in Ohio or Canadian waters with Lake-Erie-Fishing Charters. Here in Ohio's western basin of Lake Erie walleye fishing reins supreme! Walleye are caught by the millions every year drift fishing and trolling the waters off shore of Port Clinton, Ohio. If it is small mouth bass action you want look no further South, Middle and North Bass Islands are named after these sport fish and the westren basin reef complex is right next to our marina is teaming with them!

which is why departing from our marina makes for amazing combo fishing trips for

smallmouth and walleye.

Coe Vanna's fishing advantage.


Our policy when you have caught your

limit of walleye

(or any other species) is not to bring you back to dockside early, if you limit out in a couple of hours (which frequently occurs). We utilize the remaining portion of your trip to fish for another species or

catch and release

walleyes.

Fish a combo

trip at - at no extra cost!


Smallmouth Bass and Walleye are plentiful on Lake Erie's reefs. Rocky structures hold lots of walleye and smallmouth, which is why we offer amazing combo fishing trips.

The near shore- western basin reef complex begins by our marina.


Small mouth Bass four at a time.

Make any trip a combo - at no extra cost!
With both species near by our docks - Our location offers great combo fishing trips !

Smallmouth Bass fisherman. Bring a premium ten pound line for these acrobatic beauties. On average our small mouth bass fishing trips turn 50 to 90 bass per day. Don't forget Lake Erie has plenty of those tasty Yellow Perch. Daily limits of these prize table fare is thirty per person per day. Lake Erie perch jerkin means catching them two and three at a time.





Lake Erie is The Walleye Capital Of The World. Millions of walleye are caught in the western basin of Lake Erie every year drift fishing or trolling. Coe Vanna Charters will put you on the fish. We fish everyday and are always tuned in to the best fishing methods and areas at any given time.

Our Lake Erie walleye fishing report page provides the latest information, Latitude, Longitude for buoys and reefs on the Western Basin of Lake Erie. Walleye charter fishing techniques, methods and current walleye locations. Along with free instructions for making Lake Erie's hottest walleye lures - current weather conditions on Lake Erie. We fish every day and know where the schools are located.
I will answer any question you may have, via E-Mail coevannacharters@aol.com Text 419-355-4732 or call. Check back often a lot of new services are being planned.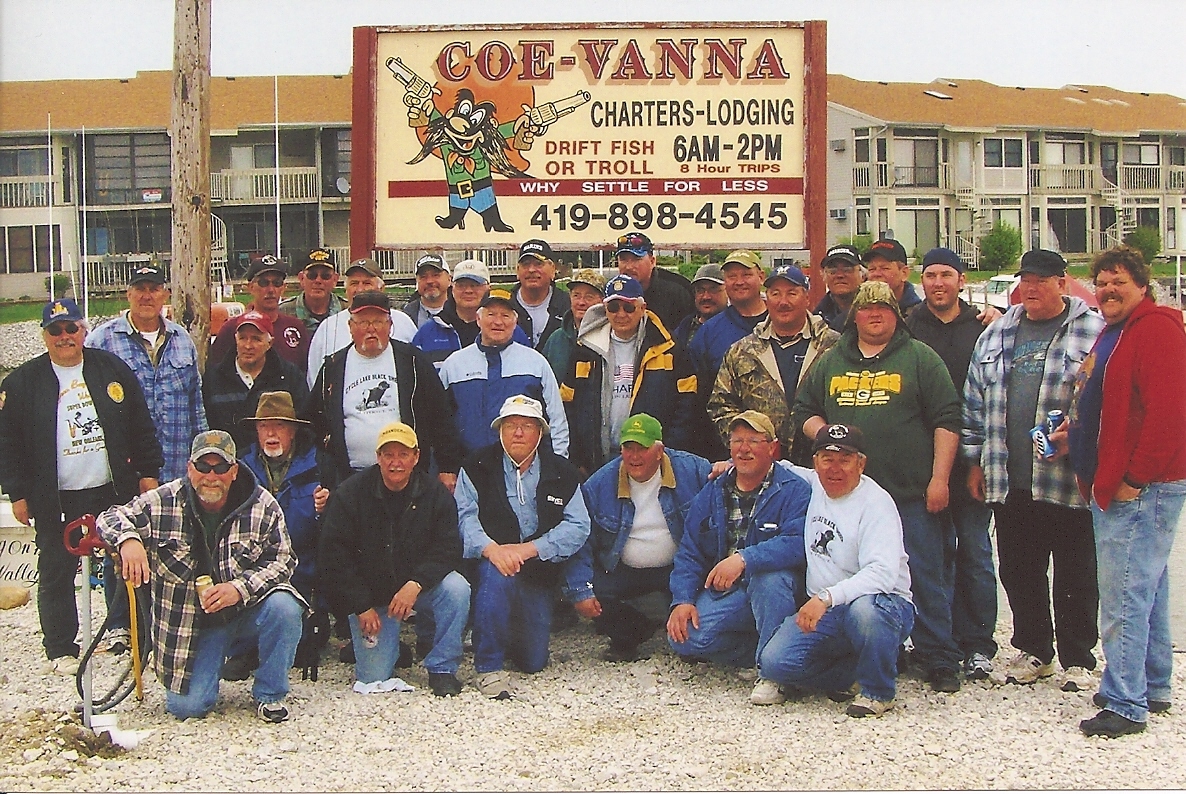 Coe Vanna's lake erie charter fishing outfit is a Small Family Run Business Time Tested - Earned - Reputation as one of Lake Erie's best fishing charters.
It takes years of fishing experience on Lake Erie to learn the
movements, patterns, tactics, times and areas to take
consistent limit catches of walleye, small mouth bass and perch.
Coe Vanna- Lake Erie fishing charter boats and sight seeing trips . Port Clinton, OH - Since 1983
Coe Vanna will put you on the fish and into the action!
We take pride in our work and our reputation.
Our business is built on happy satisfied repeat customers.
Captains Dave Whitt, Rizo, Blake, Dennis and Jeff Kuelling
Coe-Vanna II, Coe-Vanna III, Cindy II and Coe-Vanna IV
Lake Erie Walleye Fishing Charter Boats, Port Clinton, OH

Planning ahead gets you the most out of your Lake Erie fishing charters.
Give me a call and I will answer any questions you have. Go over what time and days that will work for
you for fishing or lodging, cost, number of people in your party as well as any special requirements or
requests you may have.
Welcome Aboard,
Capt. Dave Whitt.
We call you when fishing conditions
are off due to winds - muddy water and offer you the opportunity to reschedule your Lake Erie fishing charter with us. We treat our customers the way we would want to be treated.
Save your money and reschedule with us at a latter date.